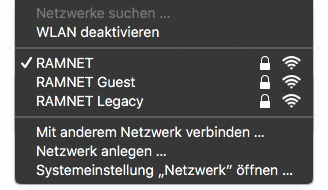 We noticed that we are having some wireless devices in
RAMNET Legacy which are also capable of running the normal
RAMNET or RAMNET Guest WiFi.
The Legacy WiFI is only for devices which cannot connect to the normal network with username and password. Please double check to which network you are connected. We will drop any invalid device in the future also denying access to the other networks (read below).
Simple: check if you are using the correct network. If you are using an iPhone/Android/iPad/Tablet/PC/Laptop it is most likely that you can connect to RAMNET/RAMNET Guest.
You don't need to check devices which we added to your account manually, they are flagged.