Something's new? We'll post it here!

We migrated our webserver (www.ram.rwth-aachen.de) from an quick-n-dirty Apache setup to an nginx setup.
We did that because we noticed that the site is slow from time to time.
UPDATE: We fixed the issue, pages should load blazing-fast now
(There might be some problems with bookmarks - please remove .html at the end)
Details

Geschrieben von

Florian Busch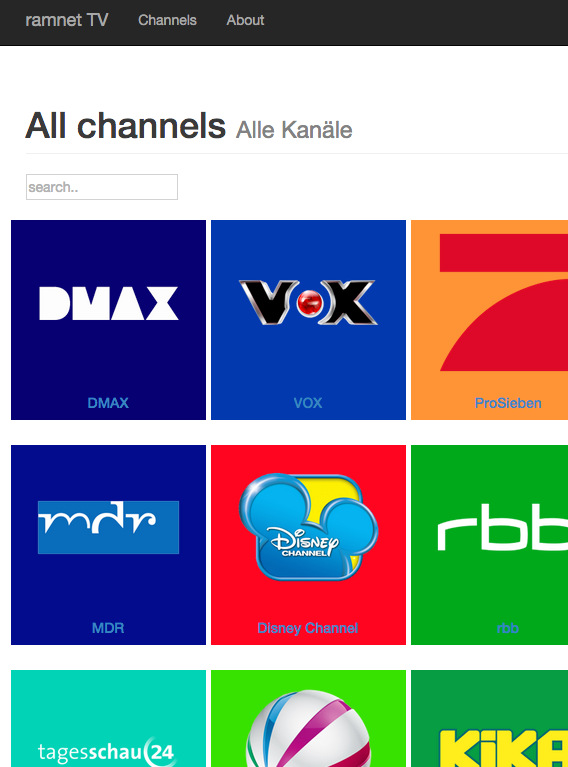 We finished the work on our TV streaming server. We built a small webapp to allow streaming in the browser.
The address is http://tv.ram.rwth-aachen.de
We have a tvheadend running, which is open to everyone from within the ram-network - meaning, you cannot access it from everywhere (might come soon?).
We have not only prepared the server for streaming but also for recording. Everyone can shedule shows and watch them later.
If you are on Android you can use TVHClient (PlayStore). On iOS TvhClient (AppStore) will serve your request.
We will publish some tutorial on how to install each of them soon.
In short: Put in tv.ram.rwth-aachen.de as server, no username or password needed! Don't touch the ports and press save.
Details

Geschrieben von

Florian Busch
It had been a hard piece of work but we finally made it: We're releasing our new Mailserver to the wild!
We strongly encourage everybody to upgrade his/her email configuration. Detailed How-Tos will follow.
From now on we're offering webmail access to your inbox! - See here
We have IMAP with SSL authorized by RWTH available now.
So, here are the new settings for mail:
Deactivate/Delete the old configuration
Create a new e-mail account and use IMAP
Server is

mail.ram.rwth-aachen.de

IMAP port is the default at

993

(enable SSL)
SMTP port is the default at

587

(enable STARTTLS)
make sure to enable authentification for both IMAP (receive) and SMTP (send)
Your username / password is on your data sheet (your.username) [contact us if lost]
and you should be good to go!
In the following days (we expect next week) the ITC will forward all ports required to let you access your ramnet mail from all around the globe.
Details

Geschrieben von

Florian Busch
We are really sorry for any delayed mail. The ITC made our ramnet Mail available world-wide - That is great! ..Unfortunately there are still some routing problems we fixed with a workaround until they get updated.
Details

Geschrieben von

Florian Busch
We're done. The new dns server at 137.226.68.2 is fully functional and awaiting your requests.
It is faster, more reliable and suporting DNSSEC.
Details

Geschrieben von

Florian Busch