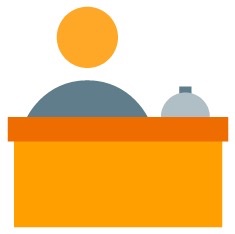 Die Bürozeiten sind Dienstags zwischen
We have Office Hours Tuesdays between
20.00 (8 pm) und 20.30 (8.30 pm) Uhr
im Gemeinschaftsraum
(Keller 150a - neben der Waschküche)
(Basement 150a - next to the laundry room)
Du solltest dich bereits hier registrieren:
You can already register here:
Sieh bitte auch in unseren Kalender ob wir auch wirklich da sind
Please check our calender first to ensure we did not skip a week
Zur Neuanmeldung sei bitte um genau 20.00 Uhr da, da wir dann mit einem vorgeschriebenen Vortrag beginnen. Solltest du diesen verpassen, musst du eine Woche warten!
If you are new to the club and signing up, you will have to be there at 8pm (sharp!) or you have to wait an entire week for the next mandatory talk!
Bitte bring folgende Dinge zur Anmeldung mit:
Please bring these things:
Membership fee in

bar/cash/

EC/DebitCard/CreditCard/ApplePay/GooglePay

Please try to use electronic payments (COVID-19 measure)

Bankinformationen
Reisepass, Passport, ID card, Personalausweis oder Aufenthaltserlaubnis